A Message from CEO Jim Enote Regarding Covid-19
Dear friends and colleagues,
Several of you asked about my perspective regarding the Covid-19 outbreak. For this reason, I want to share a frame of reference with you that I hope will be supportive during this time of collective hardship.
My lovely great-grandparents lived in the 1800s and part of the 1900s. They passed away when I was 17 years old. They were deep Zuni and helped me understand that we live in a world with different ways of knowing. Their way of contemplating the universe was beautifully without predictable logic yet connected to all things and processes and unencumbered with a written language and necessity to measure matter.
In my most difficult times, my great-grandparents told me this,
"All things come from a seed. Corn, redwood trees, whales, birds, fish, humans, and ideas come from seeds.
All creatures breathe in and breathe out an unseen and vital force.
Those creatures live all around us. They are below us, above us, and in all the waters of the world.
Many of those creatures have protuberances, wings, fins, arms, and legs that help them move from one place to another.
Like us, some creatures have eyes and ears to perceive things around them.
Like us, those creatures respond when the sun rises, and when winter becomes spring.
And like us, those creatures have power beyond their physical bodies. If we think of them, that is their power speaking to us.
All things vibrate and move. The ground sometimes shakes, and stars move across the sky. The earth and space above are the backbone of our world, and it, too, has power. We respect the power, we talk to it, and with collective ritual, we help to maintain a cosmological process." I said, yes, it is all true.
In times of great difficulty and worry, remember this truth, we are never alone. All the creatures of the universe are not much different than us. We are all a family of beings. If we settle our nerves and enter the right frame of mind, we will conjure their powers, and nothing can undo us.
The Covid-19 situation is changing rapidly, and we will do our best to adjust. We will improvise and move forward. Above all, we are calm. We know, as a single species among many, we are not alone. All peoples, all beings, and the vastness of the lands, waters, sky, and distant galaxies are part of a collective magnificence that, like a beautiful story, will always play out and change but will remain the same beautiful story.
I wish you good health and serenity.
Jim Enote
Chief Executive Officer
Colorado Plateau Foundation
P.S. As we move through the COVID-19 pandemic, the Colorado Plateau Foundation continues to support indigenous communities to become more resilient. Sign up here for our newsletter to stay connected.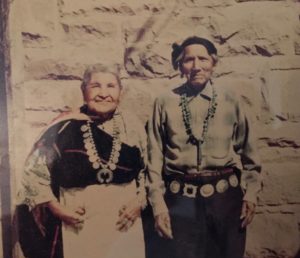 Colorado Plateau Foundation
We are a Native-led foundation that supports the cultures, lands, and waters of the Colorado Plateau, the landscape that we call home. We invest in Native-led organizations working in four priority areas on the Colorado Plateau: protection of water, protection of sacred places and threatened landscapes, preservation of Native languages, and sustainable community-based agriculture.
These priorities emerged from a series of inter-tribal gatherings of cultural leaders who identified these areas as requiring immediate and sustained attention. We use a culturally centered model of giving that blends strong relationships, capacity building, and tailored support to build the skills and leadership of Native-led organizations working to protect the Colorado Plateau.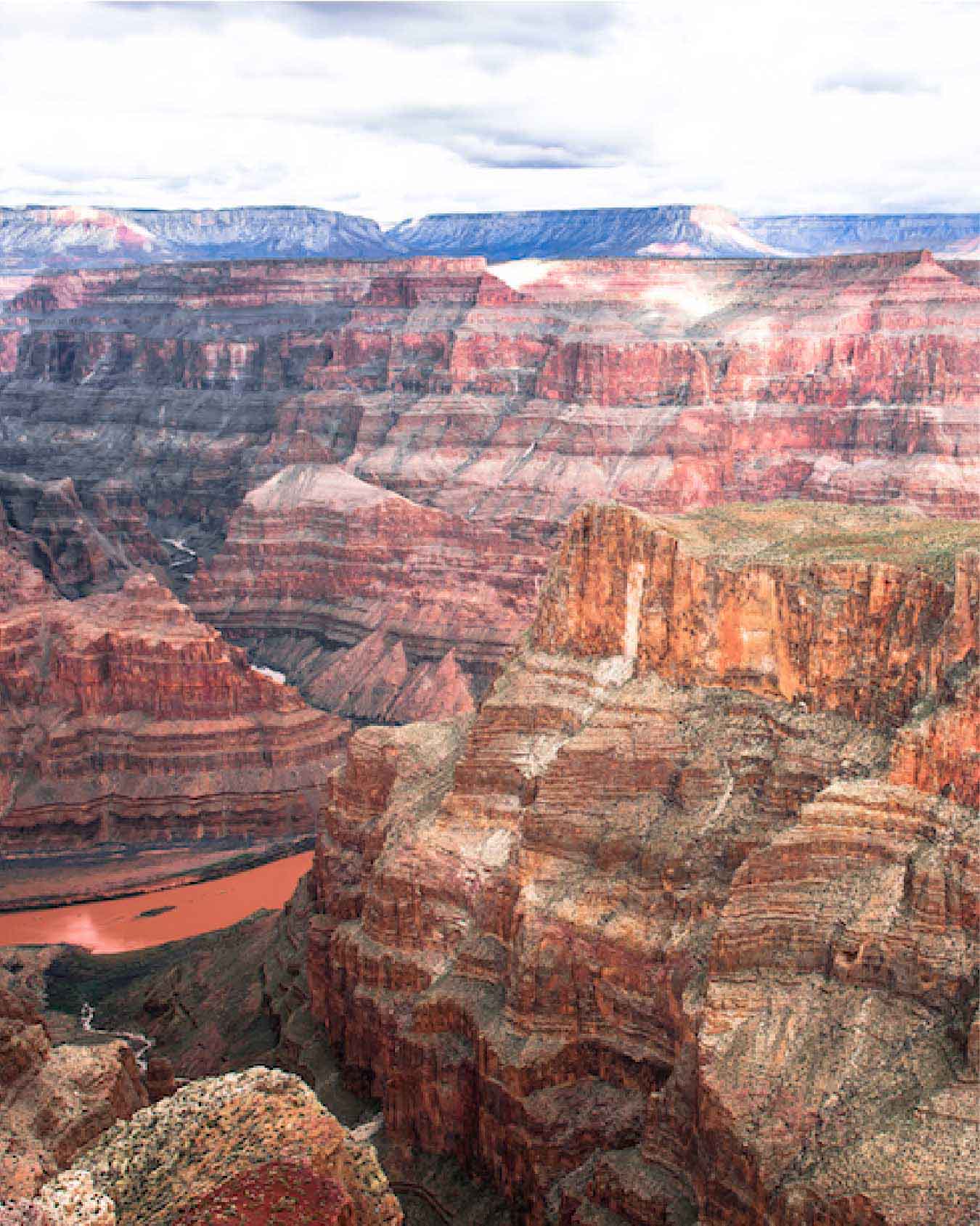 Ita Hopi Lavayi
admin
2019-02-27T21:33:17+00:00
Conservation Legacy, Ancestral Lands Program
admin
2019-02-27T21:21:28+00:00
Black Mesa Trust
admin
2019-02-27T22:51:33+00:00
Advancing Communities Foundation
admin
2019-02-07T22:32:49+00:00
Acoma Learning Center
admin
2019-02-07T22:40:40+00:00
Uranium Education Coalition
admin
2018-08-08T22:37:49+00:00
Ancestral Lands Acoma
admin
2019-02-07T22:47:39+00:00
Map Of Grantee Locations On The Colorado Plateau
About The Colorado Plateau
The Colorado Plateau is an ancient landscape of incredible beauty and diverse life. Formed millions of years ago, it extends across a 130,000-square-mile area roughly centered over the Four Corners area in the southwest United States. High-elevation deserts with red rock formations, cacti, and sage give rise to mountain ranges forested in pine, spruce, and juniper. The Colorado River and its tributaries wind through the land, carving deep canyons and wide valleys. Varied and delicate populations of plants and animals have adapted to this arid yet rich landscape.
Today, one-third of the Colorado Plateau lies within the sovereign lands of 11 different Native American tribes. The power of Native American tribes as sovereign nations, as governments that oversee over a third of the Colorado Plateau's lands, and as the original stewards of this landscape renders Native leadership necessary to achieve any meaningful and authentic change on the Colorado Plateau.
About Philanthropic Funding
Analyses of philanthropic community data indicates that very few funding dollars are currently being allocated to Native communities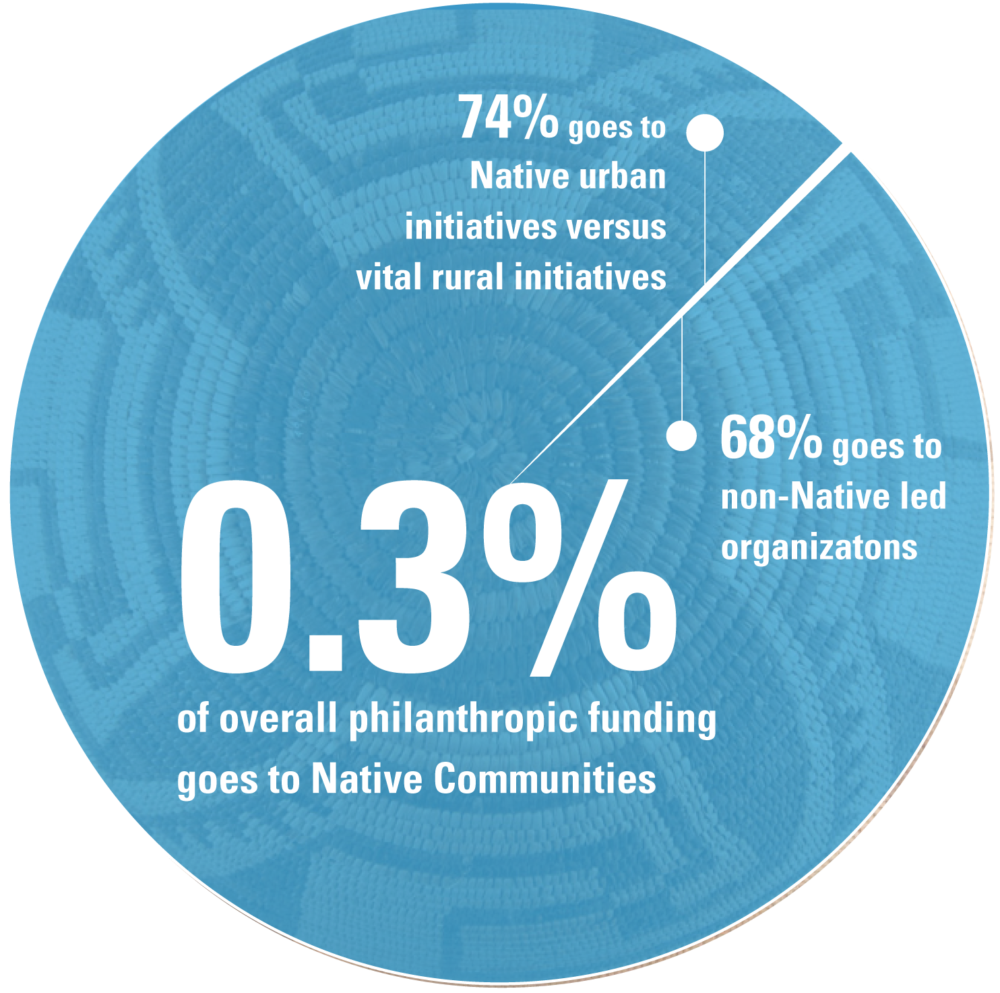 Only

0.3% of overall philanthropic funding goes to Native communities

Funding Gaps:
Rural Initiatives: 74%

goes

to Native urban initiatives versus rural initiatives, leaving 26% for Native rural initiatives
Native-led Initiatives: 68% goes to non-Native led organizations, leaving 32% to Native-led organizations
Funding overall to Native American organizations and causes decreased 29% from 2006-2014
Of funding to Native causes, 50% goes to organizations servicing a Native American population, but led by non-Native Americans, and only 50% to organizations led by Native Americans